FM Project Manager
With Project Manager you can prepare your project using user-friendly interface with no need of programming skills.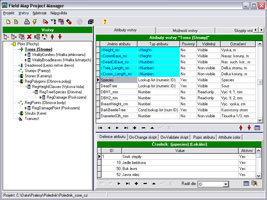 User-defined data collection methodology = database structure = Field-Map project.
Multiple layers in each Field-Map project, multiple attributes for each layer.
Relational hierarchical database = multiple layers arranged in tree-like database structure supporting one-to-many, one-to-one and many-to-one relationships.
Any-time database structure customization without losing existing data. .
Create new project, create new project from existing
Add, copy and delete layers
Disable/enable layers
Set conditional appearance of layers
Set map symbols
Add, delete and edit atributes
Export data (MS Access, MS Excel, XML, etc.)
Transfer data between projects
Compare structure of projects
Backup database
Edit map composition
Combine shapefies
Transform map layers
Prepare on-change, on-validate, on-demand and on-layer scripts
Set multilingual names of attributes and lookup tables and more...
FM Data Collector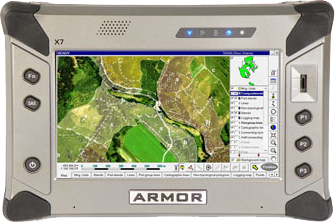 The Data Collector application is specially designed for tablet PC computers used in the field.
FM Inventory Analyst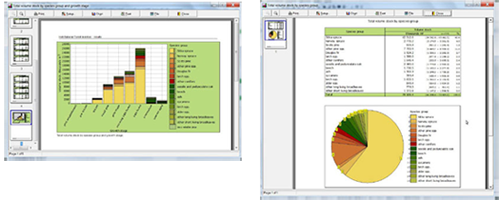 Analyze your data, use advanced statistical processing tools and produce instant PDF tables and graphs.
Field-Map Inventory Analyst (FMIA)
FMIA is software application for evaluation of statistical forest inventories. It provides user with easy handling and processing of the databases of field data. Data can be completed, pre-processed and processed in order to obtain final statistical results and output. Automatically generated output consists of classified tables of results and graphs. As option the user may complete the result with methodological remarks, definition of the terms and comments.
FMIA covers following tasks:
Calculation of secondary and derived variables using predefined models and in-built functions
e.g. calculation of height for those tree which were not measured in the filed, calculating tree volume using user defined or local volume equations etc.
Post-stratification

Aggregation
aggregating data of specific data layers and calculating descriptive statistics; 
e.g. summarizing deadwood logs within a plot, calculating mean log volume, sample variance,
standard deviation, standard error etc.
Classification 
user defined classifying of continuous data values into classes; e.g. age to age classes, tree diameter into diameter classes, etc. 
Re-classification 
re-grouping of discrete data values; e.g. tree species into species groups etc. 
SQL update or scripts 
using SQL commands or user defined scripts to create and calculate derived variables.
Statistical data processing 
The tasks of statistical data processing can be formulated using interactive forms and used repeatedly. 

Outputs of calculation are presented in form of tables and charts. Each task can be supplemented by user's comments, methodology descriptions and definitions.
Main advantages of using Inventory Analyst:
Easy and fast data preparation (data preprocessing)
Calculated values are added into the source database
Easy definition of statistical tasks (import/export of definitions of the statistical tasks)
Automatic creating of printable outputs including charts
Possibility of multilingual outputs
FM Stem Analyst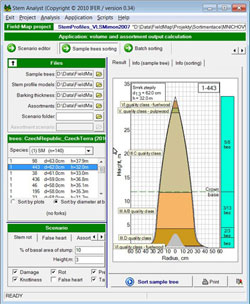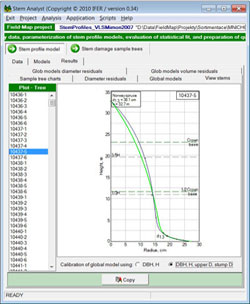 Calculate standing assortments using Stem Analyst.
Field-Map Stem Analyst (FMSA)
FMSA is software tool for used for two main tasks:
Defining parameters for global stem curve model.
Defining assortments on the inventory plot.
The parameters for global stem curve model are defined based on measured stem profiles. One can measure sections of felled trees or use so called six point method on standing trees.
Prior to the assortment calculation the stump height may be defined as percentage of tree height, fixed height or fixed diameter.
The output of the data analysis consist of:
Global stem curve model for individual species or species groups
Model statistics
Charts showing diameter and volume residuals of the model
Profiles of individual sample stems
Stem volume calculation
To get sufficient data for the calculations, there are several measurements performed in the field:
Virtual division of the stem parts based on quality
Measurement of the branch knot diameters and their count
Damage classification
Measurement of heights of stem forks
Assortments module features:
Definition of assortments, dimensions, quality, financial value - so called flexible assortments.
Definition of assortments scenarios, preference of certain assortments, allowed damage classes and decay degrees, etc.
Selection of global stem curve model
Calculation of assortments broken down by volume classes. Preparation of data for further evaluation using Field-Map Inventory Analyst.